Posted January 3rd, 2013, 01:47 AM
Jewel of the Seas
Four-Night Cruise to Cozumel, Mexico
December 27, 2012 – December 31, 2012
INTRODUCTION
In anticipation of this cruise, I read dozens of reviews and looked at hundreds of photos of the ship. I recalled the things that I liked to read and see in a review, and I tried to take pictures and mental notes on many of those things as we cruised. I suppose you could say that I took this cruise with this review in mind.
I took as many pictures of things around the ship and food, food, and more food as I could. For those like myself who crave "food porn" in a review, I hope I can satisfy that hunger. (Or you might just get hungrier looking at the pictures!)
Please feel free to chime in or ask any questions throughout the review. This cruise is fresh in mind, so I am happy to answer any questions about the ship, the cruise, or any of our experiences.
Finally, though this review is 99% overwhelmingly positive (this really was a great cruise for us), I will try to be critical on some points, especially where I think others can learn from our experiences and where RCI can improve. Aside from a few things, however, I have nothing but good things to say about the Jewel of the Seas, her crew, and this cruise.
I look forward to your comments and feedback and hope you enjoy my review even half as much as we enjoyed this cruise.
ABOUT US
We are twenty-four years old, recently engaged, and live in New York City. This was my fiance's ("DF") seventh cruise and her fifth on Royal (she is Gold). This was my eighth cruise and my seventh on Royal (I am Platinum).
PRE-CRUISE
Since this was only a four-night cruise, we decided to spend three nights in Tampa before our sailing. We took a 7:45 a.m. flight out of La Guardia on the morning of Christmas Eve (December 24th) and arrived at our hotel by 11:30 a.m. (Cab was a flat rate of $25 plus gratuity.)
We stayed at the Tampa Marriott Waterside in the Channelside District of Tampa. The hotel itself was very nice, but, since we were staying over Christmas, many of the restaurants in the hotel and nearby were closed. If you stay here, however, I recommend paying a bit more for a room with a water view and a balcony. I was able to see a Carnival ship heading out to sea on our first day there.
Another shot from our balcony:
It was a bit rainy and cool that first day, so we just had lunch, took a nap, and then went to dinner at Koto Steakhouse, a local hibachi restaurant. The food was very good, although our chef didn't do any tricks, unlike the chefs at the other tables. We went to the Hardrock casino afterwards and left a deposit there.
The next day's weather started out much better with temperatures in the 60s and expected to rise into the mid-seventies. The sun was in and out, and we started the day by the pool. We ate lunch at the hotel and spent the rest of the afternoon by the pool. It never got quite as warm as was predicted and was a bit windy at times, but we had a nice relaxing day nonetheless.
View of the Marriott pool: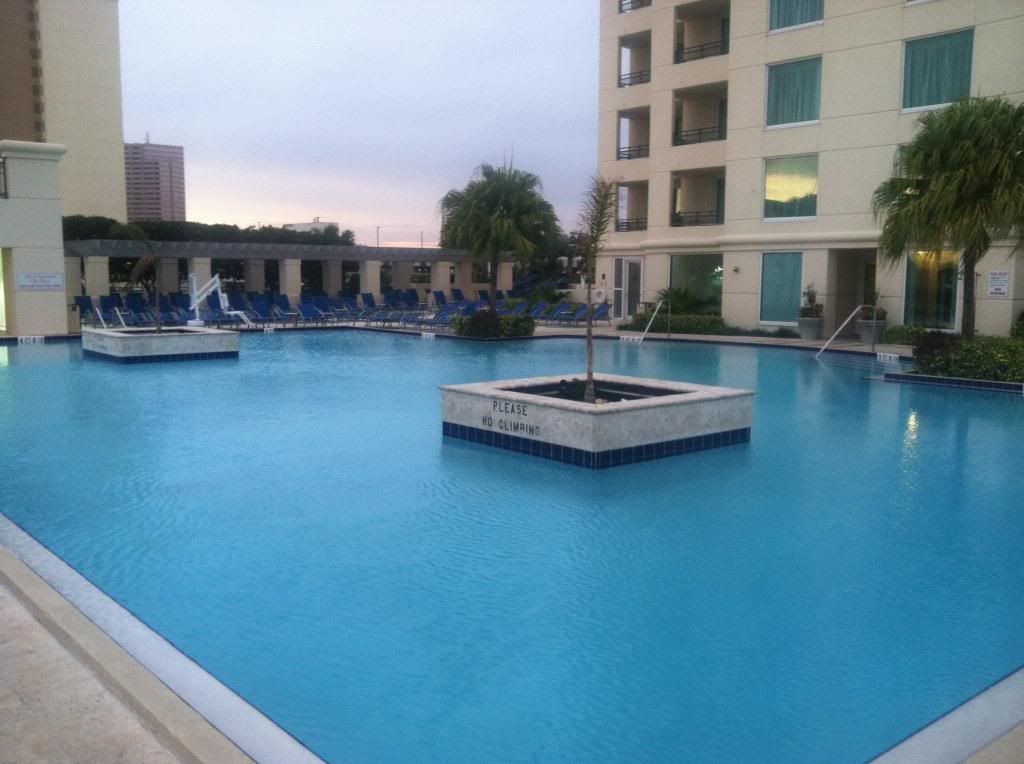 View from the Marriott pool deck:
We ate dinner at another hibachi restaurant, Oishi Japanese Sushi and Hibachi Restaurant, which was even closer to our hotel. (Yes, we love hibachi. However, our excuse this time was that this was all that was open.) The food was good here too, although it was Christmas Day and the restaurant was almost completely empty.
The following day, our last in Tampa before the cruise, we went to International Plaza, a relatively large mall with a nice variety of stores. It thunderstormed in the morning and was only in the sixties by the afternoon, so we took a cab over to the mall and spent the afternoon there. I realized that I forgot to pack a tie, so I bought a new tie and shirt. We had dinner at Cheesecake Factory and got dessert at Cold Stone Creamery by our hotel.
Overall, we had a very nice pre-cruise stay in Tampa, although, since the weather was generally cloudy and cool, I'm not sure I would spend three full days there in December with the hope of laying by the pool all day. The Tampa Marriott Waterside, however, is beautiful and has a great view of the port.
Okay, enough with the boring pre-cruise formalities.
Expand Signature
Collapse Signature
Celebrity Zenith (August 2003)
Navigator of the Seas (August 2005)
Majesty of the Seas (December 2008)
Enchantment of the Seas (June 2009)
Liberty of the Seas (May 2010)
Majesty of the Seas (January 2011)
Explorer of the Seas (December 2011)
Jewel of the Seas (December 2012)
Freedom of the Seas (August 2013)
Enchantment of the Seas (February 2014)
Pride of America (July 2014)
Oasis of the Seas (February 2015)
Enchantment of the Seas B2B (August 2015)
Allure of the Seas (February 2016)
Norwegian Escape (August 2016)
Allure of the Seas (February 2017)
Norwegian Breakaway (August 2017)