Posted January 5th, 2013, 03:14 PM
My husband and I have cruised with Royal Caribbean twice. We didn't have plans on switching, but this year the dates we had available and the ports/prices of RC just didn't match up, so we decided to try Carnival. We found a cruise that fit our schedule and our price range for the holidays.
We drove from Texas to Miami (cheaper than flying and we are not strangers to the long stretch of I-10) We arrived in Miami the night before departure and stayed at La Quinta Airport North. You can leave your car at the hotel and take a shuttle to the port. Much easier than fighting the traffic and finding parking at the port! The shuttle dropped us off right by the door, a porter was there before we even opened the doors to help with our luggage, and within 5 minutes we were in line to check in. My mother is in a wheelchair, so they lead us to a line on the side where we were quickly taken care of. Through the detectors, up the elevator, waited in line maybe 5 minutes to have our pictures taken and room keys printed and then up another elevator and onto the ship! SO EASY, SO FAST! I have never gotten on a cruise ship that quickly, I was REALLY impressed with the Port of Miami! From the time we stepped foot out of the shuttle and onto the ship was less than 30 minutes!
Anyway, here are some pictures:
This was taken somewhere along I-10.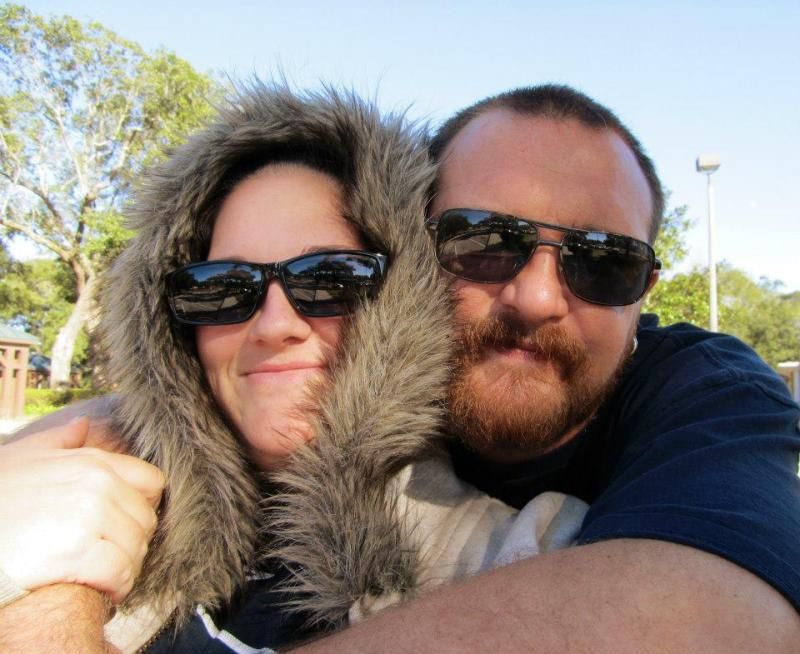 A view of Miami from the ship.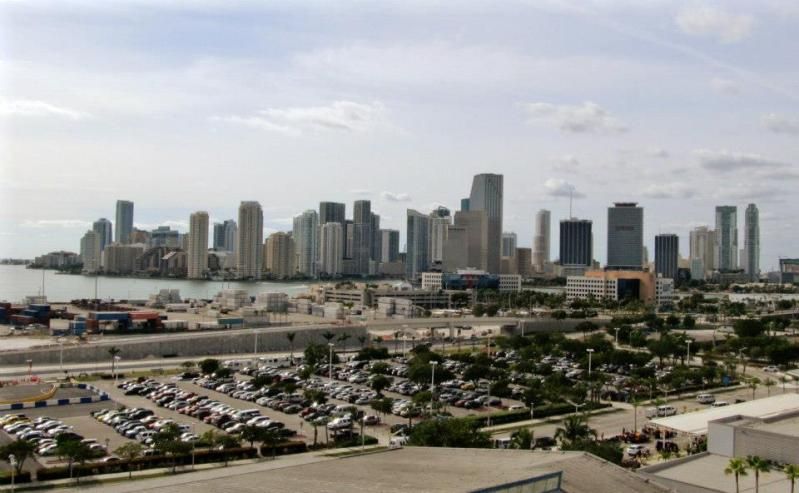 View from the other side of the ship.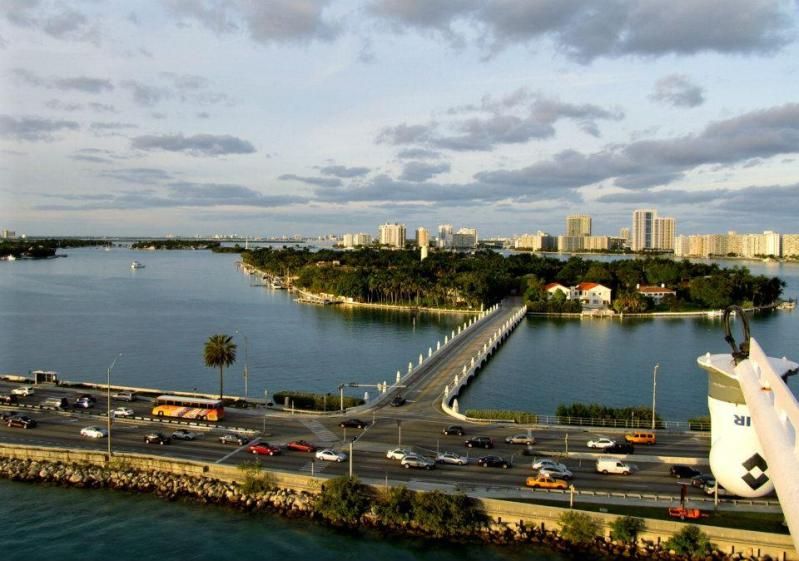 Watching some football on the big screen while we wait. (I'm a HUGE football fan, and it was killing me to miss 2 Texans games!)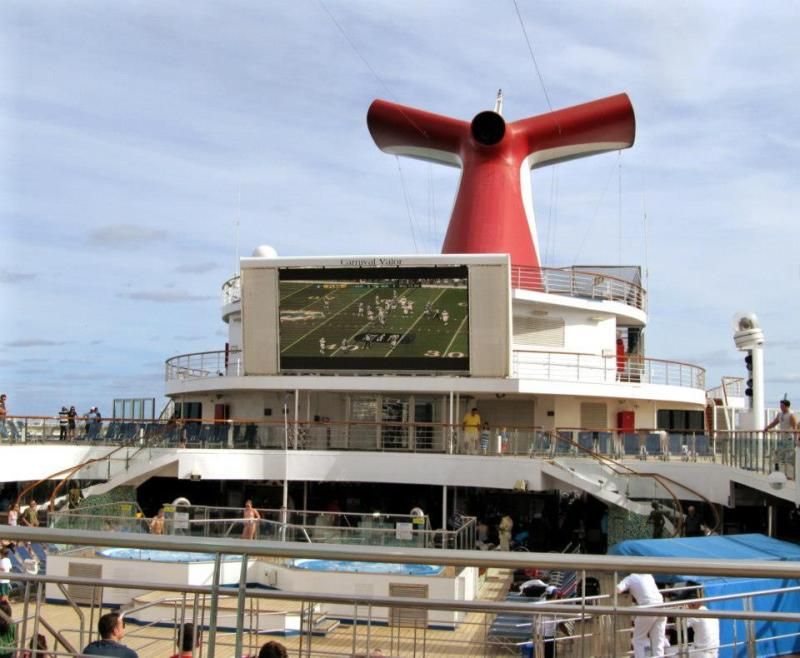 We decided to explore the ship while waiting for our sail away!
The water slide.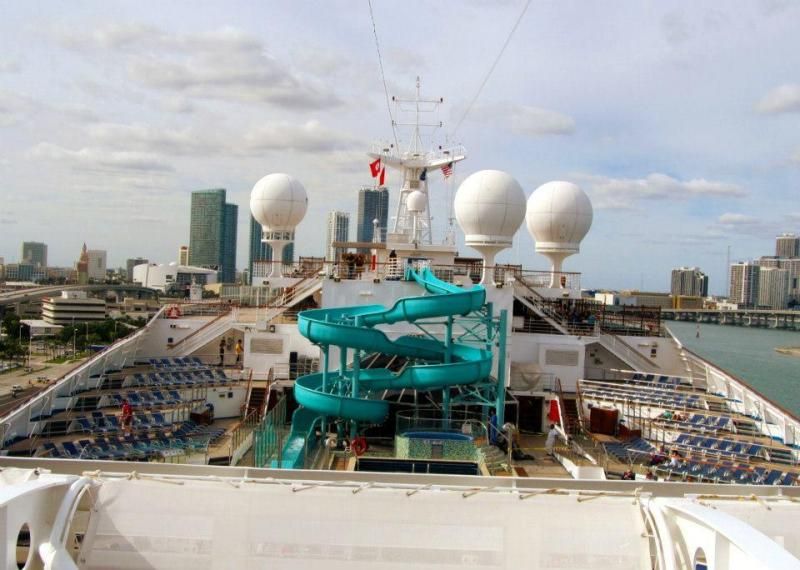 Ceiling near the casino area.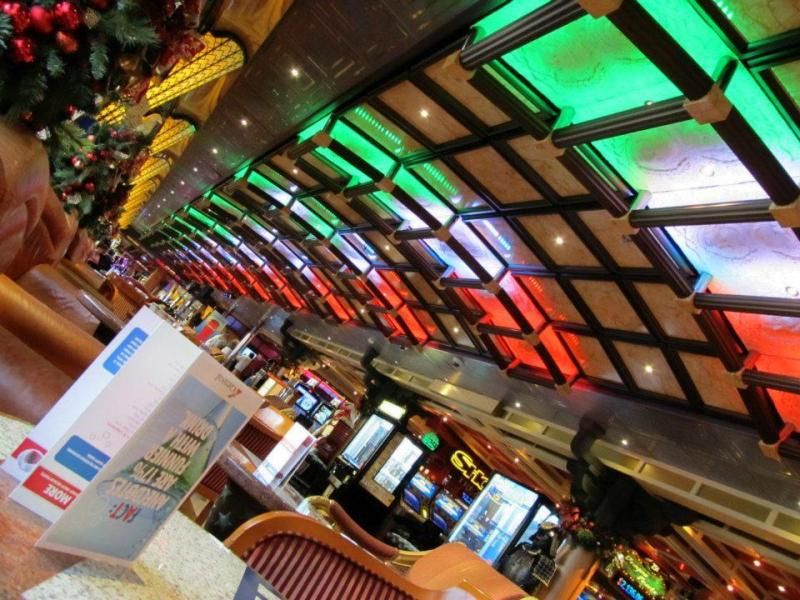 Expand Signature
Collapse Signature

December 17, 2017 -
Carnival Splendor (Miami, Grand Turk, San Juan, St. Thomas, St. Kitts, St. Maarten)

June 16, 2017
- Radiance of the Seas (Vancouver, Ketchikan, Icy Strait, Juneau, Skagway, Seward)
December 18, 2016 -
Carnival Sunshine (Port Canaveral, Grand Turk, San Juan, St. Kitts, St. Maarten)

July 25, 2016 -
Carnival Liberty (Galveston, Cozumel, Progreso) -
(Review)
December 20, 2015
- Carnival Magic (Galveston, Cozumel, Grand Cayman, Montego Bay) -
(Review)
June 19, 2015
- Radiance of the Seas (Seward, Juneau, Skagway, Icy Strait, Ketchikan, Vancouver, BC) - (
Review
)

December 21, 2014
- Carnival Conquest (Miami, Nassau, St. Thomas, San Juan, Grand Turk) - 15 yr Anniversary (
Review
)
December 21, 2013
- Serenade of the Seas (New Orleans, Key West, Nassau, Coco Cay) - (
Review
)
December 23, 2012
- Carnival Valor (Miami, Nassau, La Romana, San Juan, Grand Turk) - (
Review
)
December 18, 2011
- Mariner of the Seas (Galveston, Honduras, Belize, Costa Maya, Cozumel)
January 23, 2005
- Rhapsody of the Seas (Galveston, Key West, Costa Maya, Cozumel) - Honeymoon